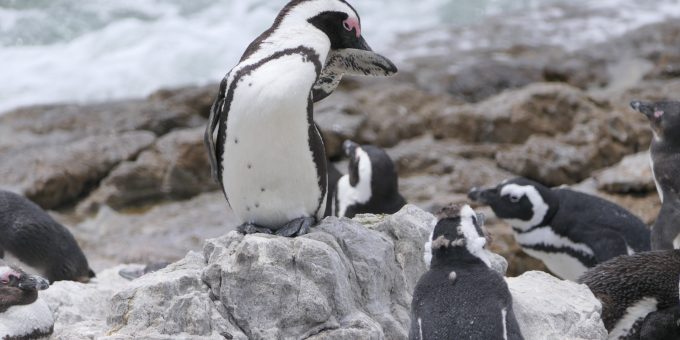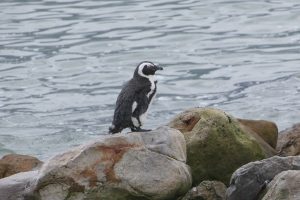 They're called "Jackass" because their sound is like that of a braying donkey.
They are one of the 18 types of Penguins, all of which are found only in the south (one; the Galapagos Penguin) is almost at the Equator, but is "nurtured" by the cold Humboldt Current.
Like all Penguins they're cute, adorable, funny and you can sit and watch their antics for hours.
I'll be seeing more (different types) in Antarctica in December, but these are the "locals" in South Africa.
Only a few colonies along the south coast of South America and up along the (cold) Atlantic side as far north as Namibia.
Their population is declining as their primary food sources (little fish, including anchovies) are declining – some say because the ocean waters are warming.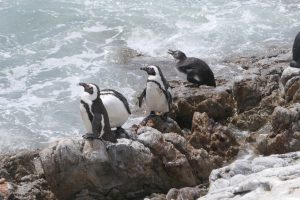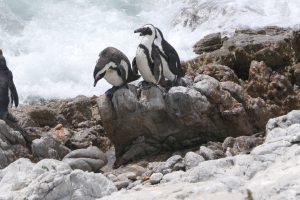 This little guy is getting ready to jump – see how he's checking it out?
And here he is, jumping off the rock – if you look closely you can see that I caught him in mid-air.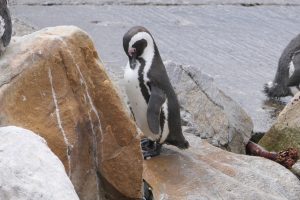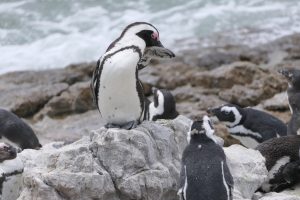 Can't be sure if this one's rubbing his beak with his wing, or rubbing his wing with his beak – cute regardless.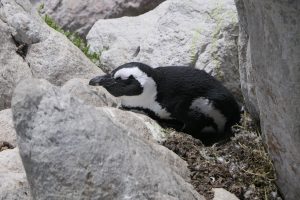 Sitting on an egg, or just taking a rest – couldn't tell.