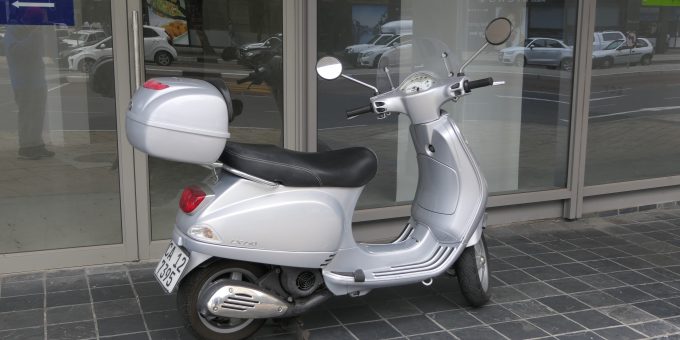 1959 – June-September
As a freshly minted college graduate I went to Europe, bought a Vespa Scooter and explored the continent – UK, France, Germany, Switzerland, Austria and Italy – a trip of almost 10,000 Kilometers.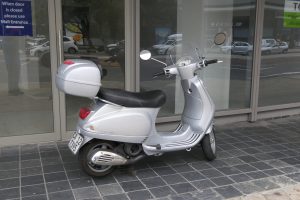 This is a Vespa – picture taken in Cape Town on 6 November 2018 – with the exception of the luggage compartment on the back, this is what I rode in 1959.
Everyone thought I was a bit crazy, of course, and they may have been right – riding the Vespa in a downpour on the slick streets of Stuttgart – cobblestones, trolley tracks and HUGE trucks wasn't the smartest thing I'd ever done. It's still close to the record of not-smart things I've done in the subsequent almost-60 years…..but what an incredible experience. That European trip really kicked off my life of adventure and exploration.
Fast Forward 59 years to fall 2018 – September to Mid November
10,000 KM throughout Southern Africa – in a Toyota 4 x 4 Twin Cab (got smart enough to seek protection from the rain 59 years later)
Namibia, Botswana, Zimbabwe, Zambia, Swaziland, Lesotho and South Africa – different continent but a similar scenario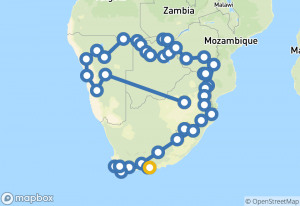 This is 2018's route – the long line is the flight from Johannesburg, South Africa to Windhoek, Namibia and the dots are each night along the way.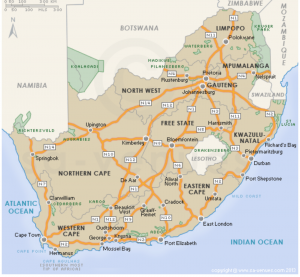 A more detailed map of South Africa, Swaziland and Lesotho (both within South Africa – Swaziland also shares it's Eastern border with Mozambique).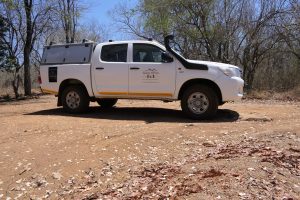 This is the much-improved ride – 4 x 4 was useful and used. Fortunately none of the stream crossings were deep enough tor the snorkel to be required.
A few more nights on the road, and on November 16th I fly from Johannesburg to Chile for the "next leg" (and another vehicle) for a month in Patagonia.