You can't get any further south on the African Continent than Cape Agulhas where the the cold Southern Atlantic and the warm Indian Ocean currents meet, but not always there.
They do meet, somewhere of course – sometimes at Cape Town (or even further to the west); sometimes at Cape Aguhlas (or even further east), depending on the weather gods, so it's "true" that there are many points where the two oceans meet.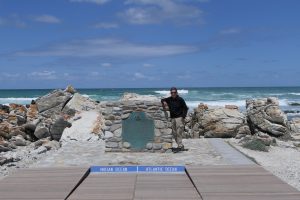 Picture quality really sucks – the blue sign reads "Indian Ocean" (on the left and "Atlantic Ocean" on the right.
But the TRUE southernmost geographic point of Africa is at Cape Agulhas, where these pictures were taken.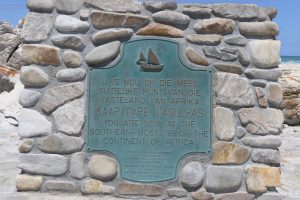 This you might be able to read (the upper part is Africans – you're not losing it) and the lower part is English.
First discovered and named by the Dutch in the 1500's as they pioneered the shipping route to Asia for the Dutch East Indian Company, it's a treacherous place with a long history of wrecks.