Last year, at just about this time, as many of you know, I left for an extraordinary adventurous trip, all through Southern Africa, Patagonia, West Antarctica, South Georgia, the Falkland islands and finished at "fin del mundo" in Chile – the end of the world – the southernmost point of land (other than Antarctica, of course).
The trip was spectacular – a little over four months, with an incredible diversity of experiences.
Posts from that trip, with maps and lots of pictures, are on this blog – August through December.
My son Chris joined me for the first month (which was the absolute highlight of the adventure for me) and the rest of it was very inspiring, diverse, fun and I met a lot of wonderful people.
At the end of this week (exactly a year to the day from the start of last year's adventure) I'm going north this time, far north.
On Saturday, August 31st, I and a small group of new friends (about 100 or so – I don't have the exact count yet) will be boarding the RCGS Resolute in Cambridge Bay, Canada.
That's NORTH – FAR NORTH – in the Eastern third of the Northwest Passage.
Cambridge bay is just slightly below 76 degrees North (the Arctic Circle is 66.56 degrees north), and we'll be heading further north from there, through the Northwest Passage with a whole lot of interesting things to see, and activities to experience,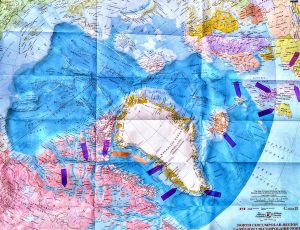 and a polar bear or two, or more.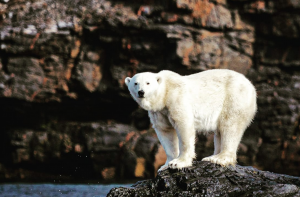 This picture was taken by Katie Quinn, two weeks ago, up there.
Katie was my Sea Kayaking Coach and Guardian Angel in Antarctica last year, keeping me safe from the Leopard Seals and other interested wildlife, as well as some "interesting" tidal bores – there was one "oh shit" (no pictures – we were scrambling to not do a roll on top of rocks in a two-person Kayak).
Sadly, she'll be finishing her gig up there just as I'm arriving, but the wonderful staff of One Ocean Expeditions (OOE) will take great care of me (and the others), I'm sure. Sea Kayaks are part of the experience again on this trip.
They have a wonderful itinerary arranged (always subject to weather / local conditions), and on September 12th the trip ends in Greenland.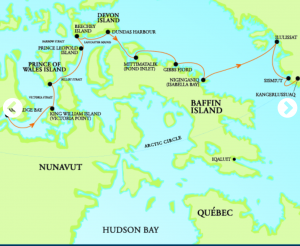 My fellow passengers will fly back to Canada, and Explorer George will stay.
Explorers Club colleagues (Mikael and Pamela Strandberg) have put together two weeks of really terrific sightseeing and participatory activities on that remote land (that's been a bit in the news lately, but contrary to rumor I'm not scouting for real-estate investment deals or golf course sites).
On October 2nd I'll fly to Iceland (it's only a three-hour hop) and do a long-leisurely, gliding, Ring Road Circuit (self-driving in a 4×4 – the weather can sometimes be a bit dodgy in October).
Chris will fly in on the 15th and we'll spend a few days together in Iceland, and then fly together to the Faroe Islands (another short flight) for a week and then on to Edinburgh on October 24th.
We'll tour around Scotland for "some time" (not yet set) and then down into England, visiting friends in London (a wonderful couple I met in Tierra del Fuego in December, and other friends there), and eventually back to Taos, just before the Thanksgiving travel crush starts.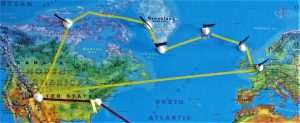 I'll not be able to make blog posts from the ship (I may be able to get one off from Edmonton on the day we all assemble to head north. I'll see).
I'm able to take this trip with the secure knowledge that Pam Miller, Executive Director of the Himalayan Stove Project, and the team that she's assembled in the year (plus) that she's been with us, running the operation, has everything under great control, and then some.
I'll write more about that in a future post, but I'm supremely grateful to her and the terrific Board that's now supporting and energizing what started out as "George's One-Man Band" ten years ago.
I established the program, initially called the Paul Basch Memorial Foundation, to memorialize my son, who left us way too early (in 1997)
Paul would have been 50, today, August 25th – sorely missed.
By the end of the year, in the ten years that the program's been underway, we will have delivered over 6,000 stoves in the High Himalayas of Nepal, transforming the lives of that many families.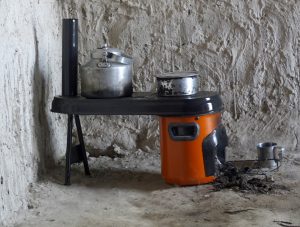 Coupled with the earthquake relief work we did in 2015 / 16 we have impacted the lives of over 50,000 people.
Coors field in Denver has a seating capacity of 50,398, so we'd provide a "standing room only" crowd. Wouldn't that be a fascinating international event?
I / we – all of us involved with and supporting this charitable program – are proud of this accomplishment (and Paul would be also), and now, with a "real" organization in place, it's energized and moving forward with renewed vigor.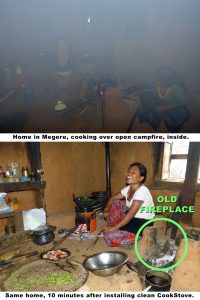 More to come about the trip (and the HSP), and thanks for "listening".
Let me hear from you.
Cheers,
Explorer George