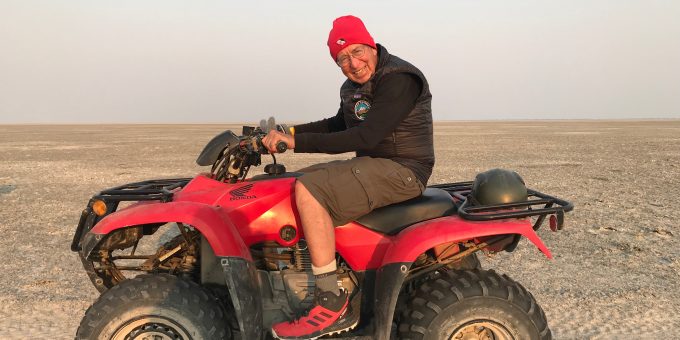 It's Thursday evening, November 15th, and I'm in a hotel (with good internet service) at the JoBurg (Johannesburg, South Africa) airport getting ready to leave for Patagonia in the morning, so let me catch y'all up on the last adventure and exploration filled three and a half weeks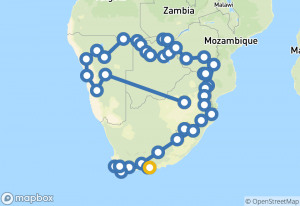 The map above is the trip that Jonty Medcalf of Timbuktu travel designed for Chris and me (he's a genius, and can do the same for you – website  – https://www.timbuktutravel.com/  –  or drop me a note and I'll put you in touch with him directly).
The start was in Joburg, on August 31, and the long straight line was our flight to Windhoek (Namibia) where we picked up the rental "car"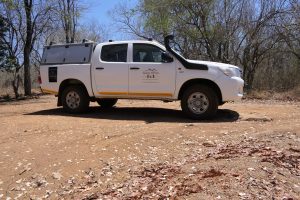 Chris was with me for a month, until Victoria Falls (at the top of the map (above) where it says Zambia, through Namibia and Botswana, and then had to return home, and I continued alone, through Zimbabwe, and into South Africa – Kruger Park (the lighter colored portion between "Limpopo" and "Mozambique" (below) and then into Swaziland (a separate small kingdom, tucked between South Africa and Mozambique).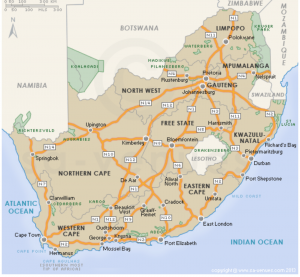 Then along the Indian Ocean coast to yet another Kingdom (fully surrounded by South Africa) Lesotho (pronounced Le se thu – very confusing).
Getting into Lesotho from the East (my route) is through a quite adventurous mountain pass – Sani Pass – we had a car and driver from Drackenburg Tours for a 4 day foray into this fascinating Kingdom.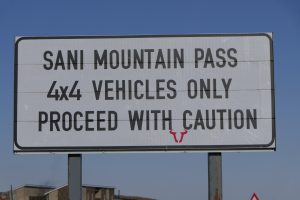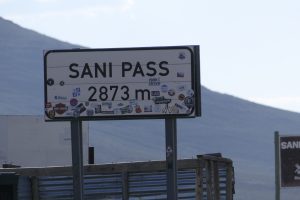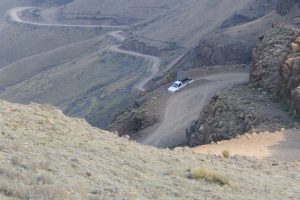 Sani Pass was our way into and out of Lesotho, so after the second trip (up and down) I was an accomplished passenger on one of the continent's more "interesting" roads – it was a donkey road originally, and the first automobile to make it over was in the early 1950's – a US Army Willy's Jeep (surplus from World War 2) around turns so tight they had to back up over the abyss to make the hairpin turns.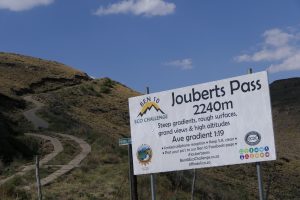 A few days later, driving on my own, I took an interesting-looking side road and "discovered" Joubert's Pass (completed in 1914)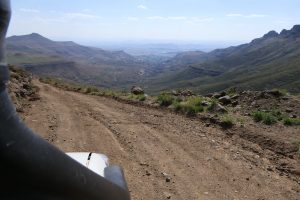 When I told Jonty about it later he said "I never heard of that one" (he's a South African native, so I was pretty pleased to add to his fund of knowledge). This is a great pass (unless you meet an oncoming car, and then it gets "interesting").
Other roads near sea level are also "interesting", with these sorts of warnings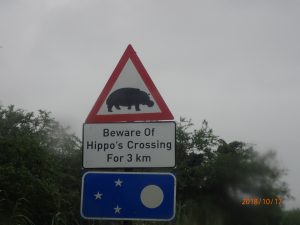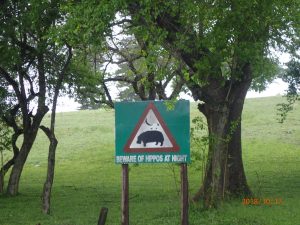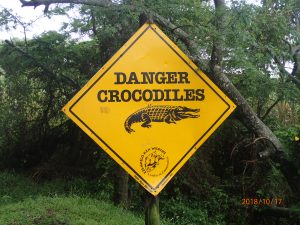 Walking down this boardwalk (after the warning sign above, was a beautiful little hike, in the rain, and fortunately it was too wet for the crocodiles.
The next adventure was "cage diving"; looking for sharks – this (below) is from the promotional brochure from Marine Dynamics.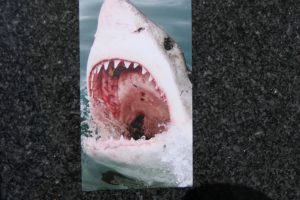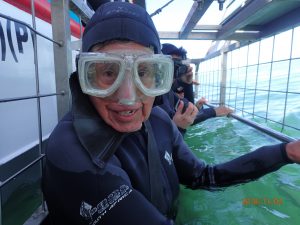 You get into a cage on the side of the boat, standing on a platform, waiting for the shark to come and look at you (being VERY CAREFUL to keep your fingers inside).
When the shark comes you can drop down and look it in the eyes from under water.
The Great White sharks weren't around during our venture, but their somewhat less ferocious cousins (Copper sharks) were. Here's the view from inside the cage as one went after the bait. The water was very murky from a storm the day before, so the under-water view wasn't good, but standing on the top deck (second picture below) was pretty great.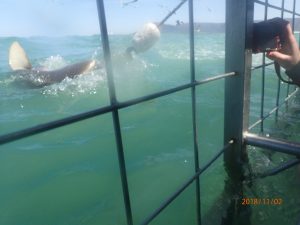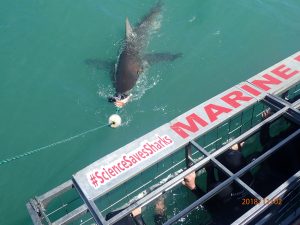 Another "adventure" was to a small artist's town (quite similar to Taos, actually) that offered the advice below at the local micro-brewery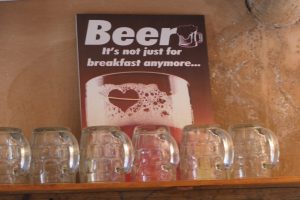 And then off to Cape Town for a few days.
Table Mountain in the picture below – Jonty very graciously took me around town and the Cape of Good Hope (picture's further below), and his wife, Lauren, who's a certified (and very experienced) guide, took me for a great hike on Table Mountain, in the fog and rain (which broke periodically for some fantastic views of this fascinating and beautiful city) and then through the very beautiful Botanical Gardens on the following day.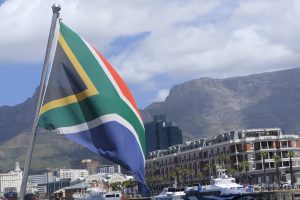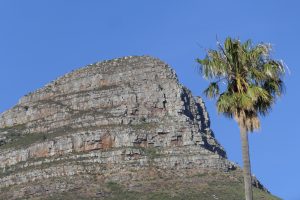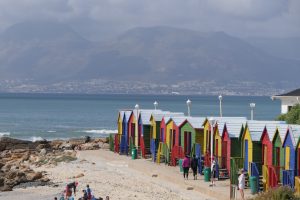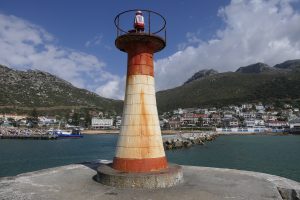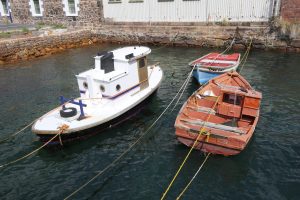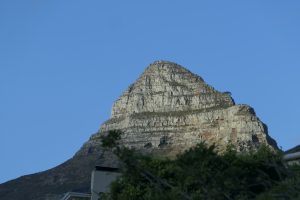 After three days in Cape Town I wandered through Wine Country (the South African wines are quite good) and did my part to help conserve water (the region has had a severe drought for several years).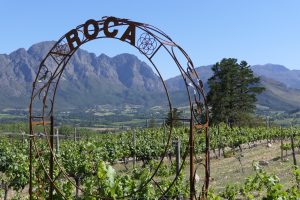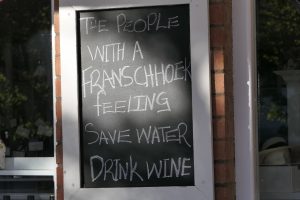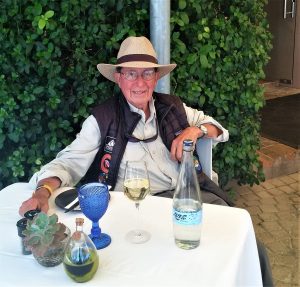 After that bit of civic duty I sampled the excellent oysters along the coast (they're worth the trip)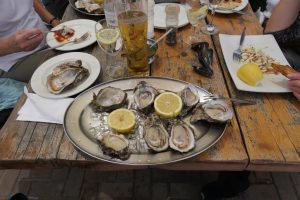 And then caught up with my friends Chris and Valerie Maher (and son's Milo and Caleb) from Cooking Studio Taos, who do an overseas trip (or two) every year, for several days at a hands-on cooking "experience", at a delightful retreat right on the ocean, with a group of both old and new friends.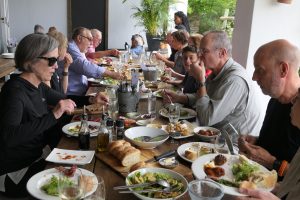 A great way to end the Africa Adventure. Lots more to experience – I'll be back.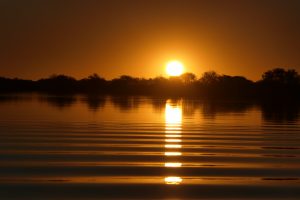 And now off to the next adventure – Patagonia !