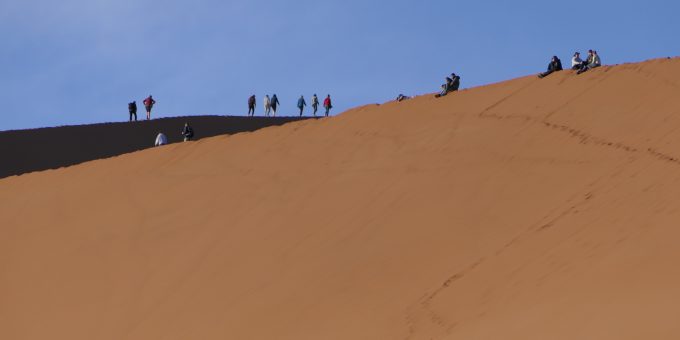 This glorious Nabib Naukaft National Park in southern Namibia, fronting on the South Atlantic Ocean, is reputedly the 4th largest in the world, and the dunes are the highest, (but I'm not going to waste my precious holiday time to confirm those statistics, and they really don't matter).
What does matter, to me, is that they are spectacular in appearance.
The sand grains in the primary area we visited are coated in Iron Oxide, hence the startling color – dunes in other areas of the park (that we flew over) are a more recognizable "sandy" color – you can see both in the pictures below.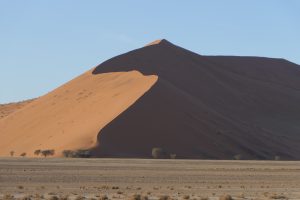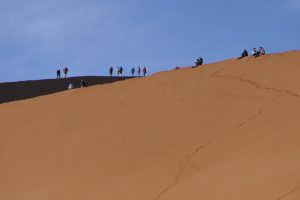 I keep repeating "spectacular", because they are – much more than the Great Sand Dunes (National Park) in Southern Colorado, an hour's drive from my home in Taos, or the sand dunes in the Gobi Desert in Mongolia (second highest, if I remember their boasting correctly).
Both of these other "Dune Parks" have mountain ranges behind them – very beautiful and imposing, BUT, the Nabib Dunes rise out of the desert, and totally dominate the landscape, as there's nothing else around.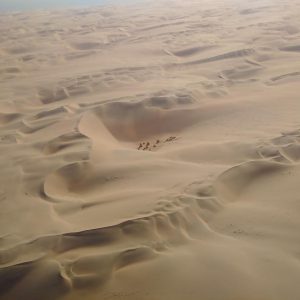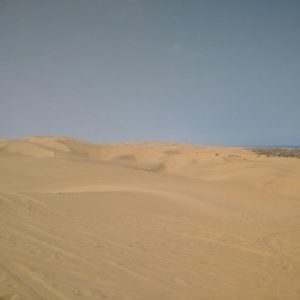 Equally spectacular are the living trees (surprisingly many and healthy looking despite the arid nature of the region – no rainfall for the last 8 or so years, but some underground water in the old river bed draining from the mountains more than 100 miles to the east), and the dead trees, mostly black spires reaching upward, reputedly dead for 800 years but still intact because of the dry climate, and with tap roots going deep into the sand below the clay of the riverbed or the dried surface of the "pans" – former lake beds, similar in structure to those in the Atacama Desert in Chile and Bolivia.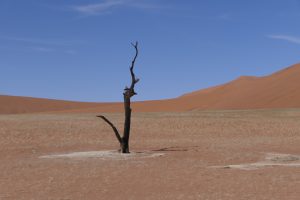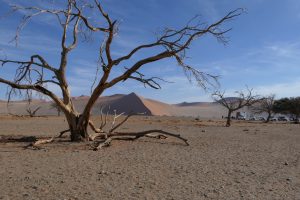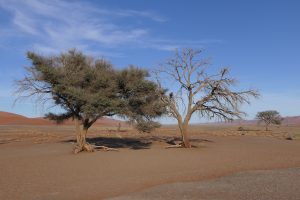 A closer, micro, view of the desert showed us ants and beetles busily going about their daily work of staying alive, and a shovel-nosed lizard that dove into the dune and began "swimming" through the sand to get away from us (large predators that we were) until our guide, Simon, spied the movement of the sand that revealed his track to try to get away from us and fished him put of the sand.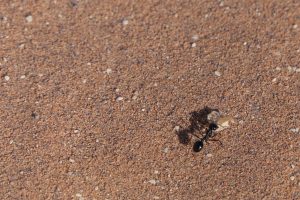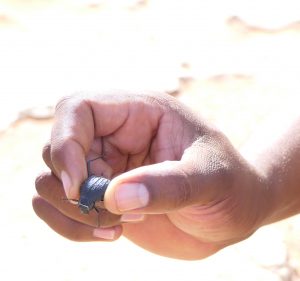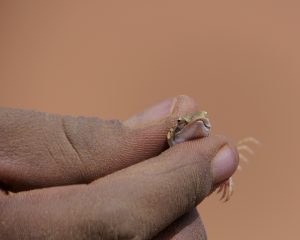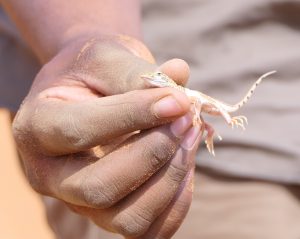 Hard to imagine what was going through the terrified lizard's mind as Simon't huge hand scooped him out of this "safe" refuge and held him gently for us to see.
For all you conservationists reading this, when released he scampered off, dove back into the dune and "swam" away, with a rather incredible / unbelievable story to share with friends and family.
More to come – stay tuned.
Explorer George